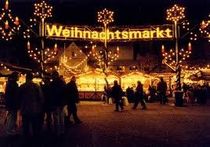 Christmas market season has started! Yeay! Go and visit at least one of the traditional markets, have some "Glühwein", some "Lebkuchen" (spiced cookies) and enjoy the atmosphere. Markets that I can really recommend:
1. At the Chinese Tower ("Chinesische Turm") in the middle of "English Garten", Munich's biggest park. It has the most traditional Christmas atmosphere, a little carousel for the kids, nice market stalls to buy presents and traditional decorations for the Christmas tree. If we are lucky enough to get some snow before Christmas, the park is just magical. You can go sledging or go for a carriage ride in the park!
2. Market at "Munichner Freiheit" in Schwabing. This is where the art scene meets. The market offers a lot of nice crafts and has an alternative flair.
3. The "Middle Ages" Market on Wittelsbacher Platz. You can meet some knights, watch the jugglers perform and buy crafts-work and toys around knights and middle ages. Great place to go with kids, also!
All markets are on every day from around lunchtime till 20:00 or 20:30 at night every day till the 23rd of December! Have fun!